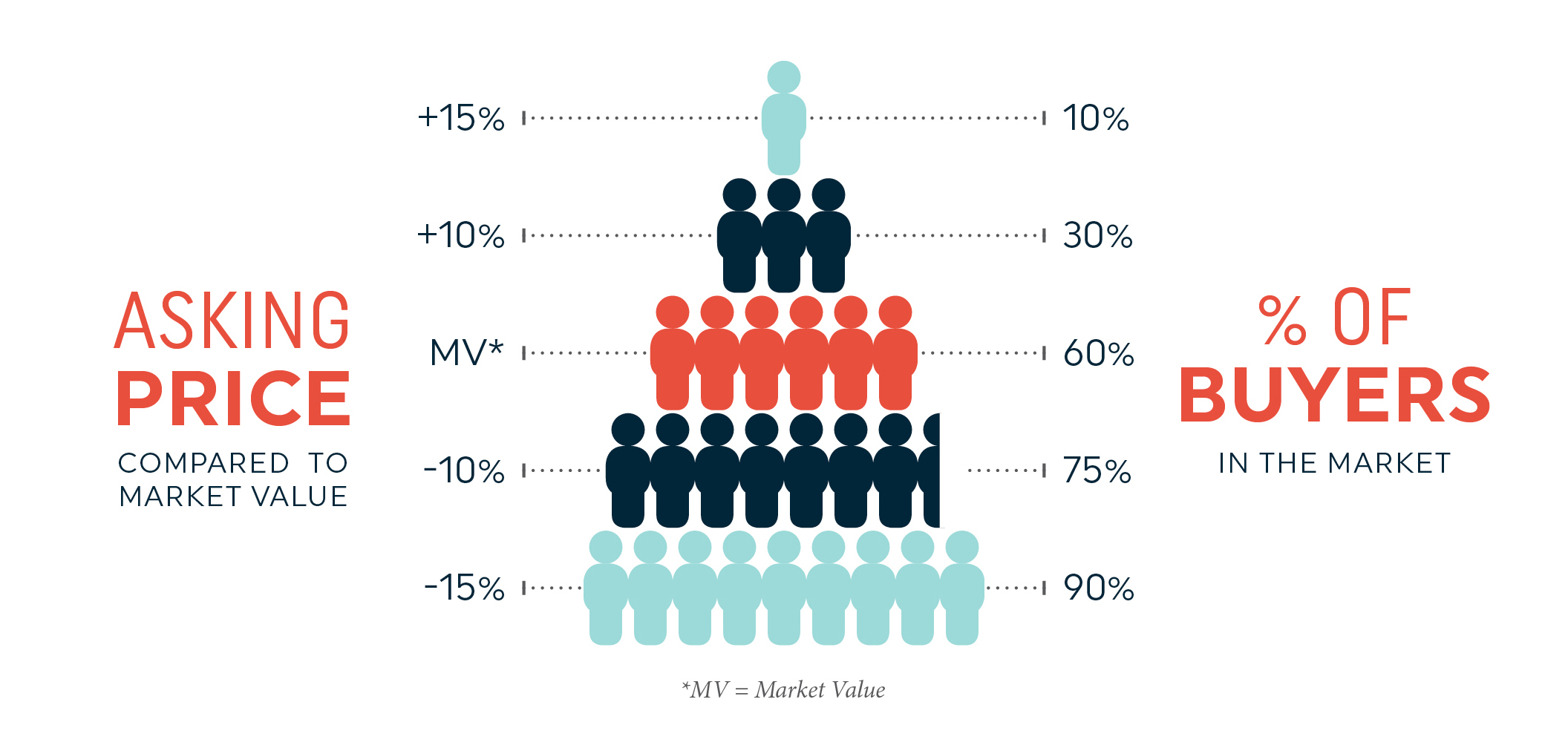 When choosing a listing agent, you may be tempted to pick the agent who suggests the highest price for your property. We will provide a comparative market analysis and explanation of how your home should be priced, so we will be more likely to sell your home quicker and for a higher price than someone who tells you only what you want to hear.
Many homeowners want to set their list price based on what they paid for their home, the balance of their mortgage, or on the profit they want to make so they can move into another home. In reality, your home is worth only what the market will bear. If you price your home too high, some potential buyers won't want to look at it at all, while others will simply walk away without making an offer. If you price your home too low, you exchange a shorter time on market for a lower sale price.
We will provide a comparative market analysis which will include sales prices for similar nearby homes that sold in the last several months, up to a year. In addition, we may include prices for homes currently on the market that will be your competition, as well as homes taken off the market because they didn't sell.
We will suggest a price range, and show homes that were on the market at various price points, looking at time on market and the average difference between the list prices and sale prices. This information will help us estimate who might want to buy your house and what else those buyers are looking at so you can measure your price against the competition.
We will factor in all of these issues in the context of our local market conditions, to ensure you sell your home for the right price in the shortest time possible.
Tips For Pricing Your Home
Price is king – Pricing the home too high may reduce the number of interested buyers, which can cause your home to sit on the market too long. Pricing the home too low will cause you to lose money if multiple offers don't drive the price up to its true market value.
Use comparable sales – The simplest way to figure out the right price for your home is to compare similar homes that have sold in your neighborhood.
Compare fairly – Make sure your comparison is fair. If there are neighborhoods in your city that are more desirable, consider that in your comparison. Also consider your location and what buyers want.
Check the market history – Compare the original asking price with the final sale price of homes in your neighborhood, and note the amount of time the house was on the market until it sold.
Consider special improvements – Consider whether major improvements you've made warrant a higher asking price. If you've remodeled or your home has unique features make sure those enhancements are reflected in the price of the home.
Don't ignore supply and demand – In a buyer's market, with many homes for sale and sellers competing for attention, you may want to ask a bit less for your home to make it more attractive to potential buyers. In a seller's market, where there is little home supply and much buyer demand, you may want to ask a bit more and maximize your profit.